Ceiling Fans for Your Home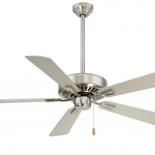 When the temperatures in Atlanta begin to climb, homeowners turn on their air conditioning or switch on their ceiling fans in order to circulate cool air throughout the house. Fans are an essential part of any home, and if you're looking for new models, blades, or fan controls, Masterpiece Lighting is here to help. We carry a great selection of both indoor and outdoor ceiling fans in our Midtown and Roswell showrooms, and would love to help you find a new fixture for your home.
Having a fan in each room of your home, or at least in the living room, dining room, and bedrooms, can improve the airflow and energy efficiency of your house, and help your air conditioner perform more efficiently as well. It's important to choose a ceiling fan that's the proper size for the space, and that also matches the decor and color of the room. If you want a fan with a light fixture, you'll find it in our store, as well as models without lights. If you need portable fans for your home or office, you'll find those in our showrooms as well.
Ceiling fans can help keep your home cool in the summer and warm in the winter, and by reversing the direction of the fan, your monthly energy bills will remain affordable. If you've just moved into a home, or you're renovating your current one, and you need new fans, let us help you find the perfect options. We look forward to meeting you!