At this time of year, you're focused on holiday decorations and what you're going to serve when friends and family come over to celebrate. You may have put some of your normal home decor away and replaced it with holiday-themed items, but once December is over you'll switch things up again. However, when you're putting your decor back in its place, you may decide that it will look better in a different spot, or you may choose not to display it at all. This can get you thinking about updating your interior design, and start you on the path to discovering an entirely new style or theme. At Masterpiece Lighting in Atlanta and Roswell, we would love to help you rethink the decor and design for your home, and have outstanding options for light fixtures, cabinets, and all types of decoration.
---
Rearranging a Room
Sometimes, the best way to reinvigorate a room is to rearrange it. Moving the couch to a new spot or adding a new chair can make the living room more inviting, and you may use the space more than you did before. Updating your lighting by adding lamps, or placing a new piece of artwork on the wall, can make a room more vibrant, and by arranging the furniture to accommodate new lights and decor can breathe new life into a somewhat tired space.
---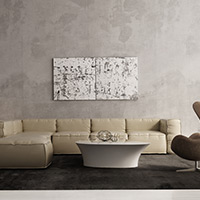 Changing the Focal Point
This can tie into the rearranging of a room, but if you had a statue or piece of artwork that served as the focal point of a room, exchanging it for something new can completely change how a space is viewed. The colors and textures of the new decor can inspire you to change everything from the throw pillows on the couch to the paint color on the wall.
---
A Fresh Coat of Paint
Speaking of paint, putting a fresh coat on a wall, or changing the color completely, can help you reimagine how a room is used. Perhaps you haven't painted the walls since you moved in, but you've had plans to turn a spare bedroom into an office or transform the basement into a game room, but the wall color just isn't right. Once you've decided on a color, we can help you find decor and artwork to fill the space and bring your design ideas together.
---
Making Every Space More Usable
Before you add new furniture, move things around, and update the lighting, it's important to think about how each space can become more usable. It doesn't matter if it's the bedroom, family room, or basement, you want each space to be functional, comfortable, and inviting. Once you've decided on how the room will be used, you can begin planning the best approach to placing new lamps, decor, and more.
If you have plans to rethink your interior design in 2017, start by speaking with the experts at Masterpiece. Our showrooms in Atlanta and Roswell have amazing options for every style of home, and we would love to help you discover lights, artwork, and everything you need to make your home into the place you've always wanted it to be.