If you own an apartment complex in Atlanta, or you're the property manager who is in charge of maintaining the premises, then you want to be sure that the lighting is perfect. Proper lighting is important for safety and ambiance, and if you're updating both the interior and exterior of the complex, Masterpiece Lighting is here to help. As your local showroom, we can provide you with hallway lighting, outdoor lighting, chandeliers, and much more.
Updating the Apartments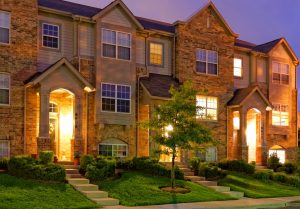 Your main focus for a complex you recently purchased is most likely to update the apartments themselves. Old light fixtures and outdated appliances should be the first things to go, and adding in new kitchen lighting, bedroom fixtures, and more can greatly increase the appeal of the property. You'll be able to create a new design and ambiance for each apartment, and even if you choose the same theme for each one, you can find plenty of fixtures for every unit.
Updating the Exterior
Before you can begin renting out your renovated apartments, you'll want to be sure the exterior of the building (or buildings) is up to date. Overgrown bushes and trees will need to be cut back, and you'll want to check to see if the entrance and security lighting are working properly. People feel much safer when coming home at night if a motion sensor light turns on or if the light over the front door to the complex is on. You can also use outdoor lighting to accentuate the architecture of the property and improve its curb appeal.
New Light Bulbs
As the landlord or property manager, you want to provide your tenants with energy-efficient fixtures and appliances. Once you've updated everything, make sure that everything that needs a light bulb has a new halogen, CFL, or LED bulb. This can help your tenants save money on electricity each month and even though you're not paying the utility bills, it can make your building much more energy-efficient, which can also be a selling (or renting) point for prospective tenants.
New Construction
If you're building a new apartment complex in the metro area, you want to be able to find the perfect lights for all of the units. At Masterpiece, we can work with you, the contractor, and the interior designer to decide on the best options for your new building, and our Distribution Center can help fulfill your bulk fixture order. Above all, we want to connect you with the best lighting options that will make your apartments, condos, or townhomes look amazing for years to come!
If you're renovating an apartment complex or building a new structure, visit our showroom today to see what we have to offer. Even the smallest lighting changes can make an old property feel like new, and the people who rent from you will love how efficient and contemporary each fixture is.
Stop by our location in Midtown today at 558 14th Street, NW, or if you're in Roswell, visit our store at 580 East Crossville Road. The staff at both locations will be able to help you find exactly what you need, and will gladly answer any questions you have about lighting, decor, or overall design. Before you know it, your apartment building will be updated and you'll have people putting in lease applications every single day!
For more than 10 years, Masterpiece has been helping people find the best lighting solutions for their property. We source our products from more than 200 manufacturers, and we know we have something that will work for you.
We look forward to helping you!